The MDO platform gives you access to financial data, through a front end platform that leverages open source software [R]. The MDO platform consists of an API to access data, and various analytical tools.
---
mdo.data
API to access QA Direct data through open source [R] Data Retrieval functions. These functions use a central data dictionary to correctly apply adjustment factors, and perform currency conversions. Helpful arguments are provided to do the difficult legwork for users, such as: recent/lookback logic, shifting dates and fiscal periods, summing last 4 quarters, and aligning by fiscal period dates, preliminary dates, final dates, or point dates.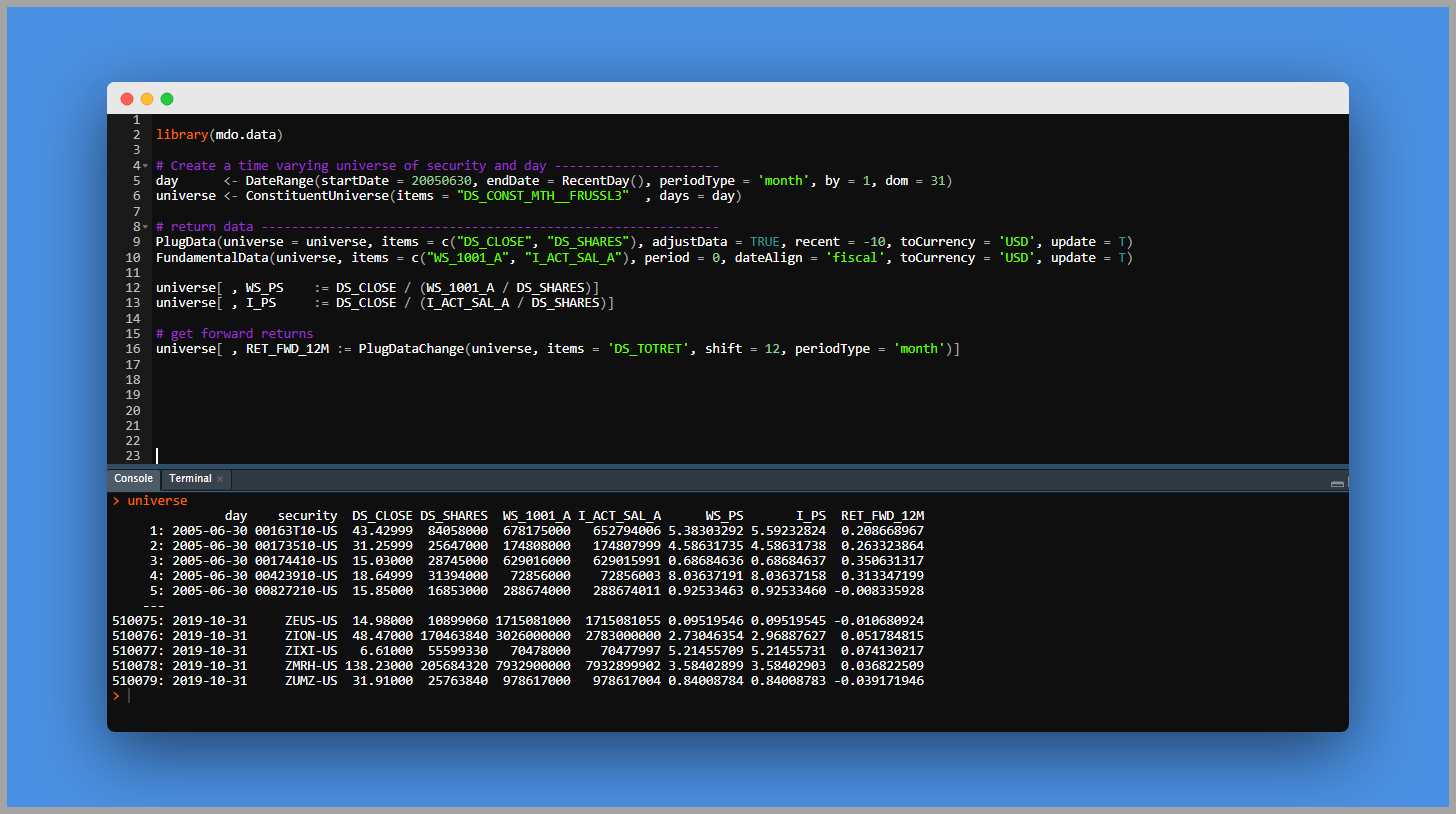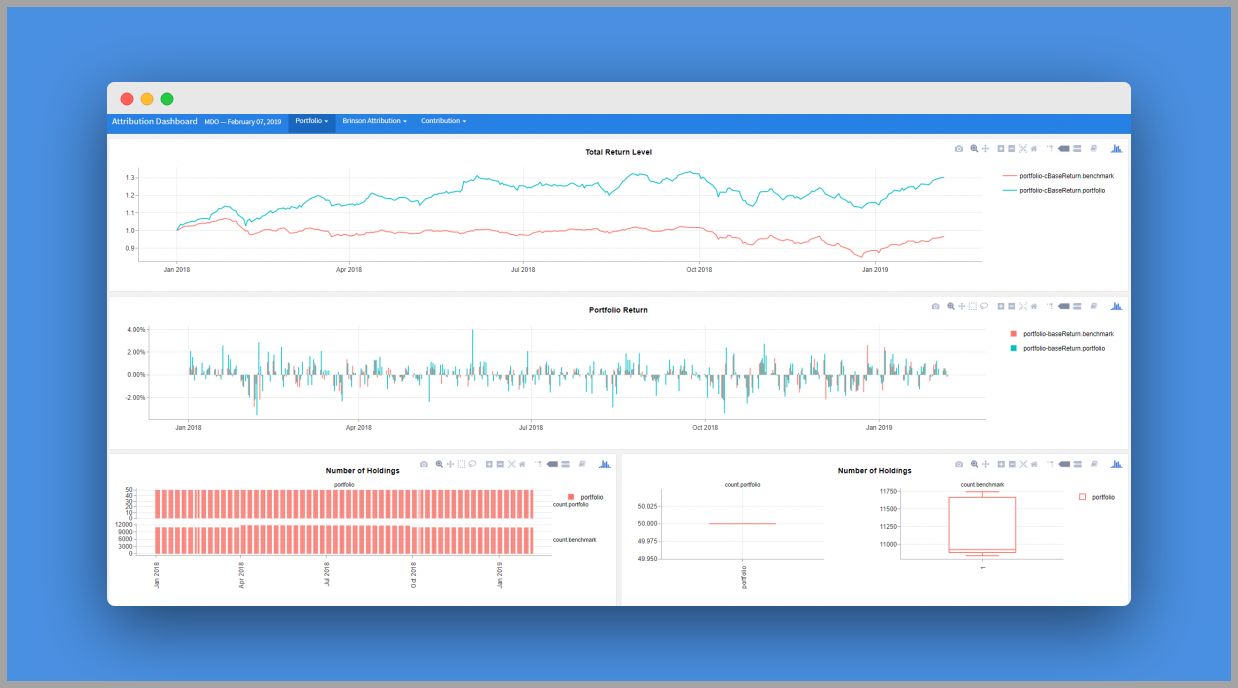 ---
mdo.attribution
Performance Attribution package to create and store actual or hypothetical portfolios and benchmarks. Calculate and create reports using standard Brinson Attribution or a Factor Attribution approach. Create and store custom or vendor created risk models to be used in Factor Attribution.
---
mdo.factors
QuantFactor class structures are provided in order to streamline the process of creating and organizing factors. This allows users to build their own factor library. The mdo.factors library contains samples of publicly available research factors, and can be used as a template for creating new factors.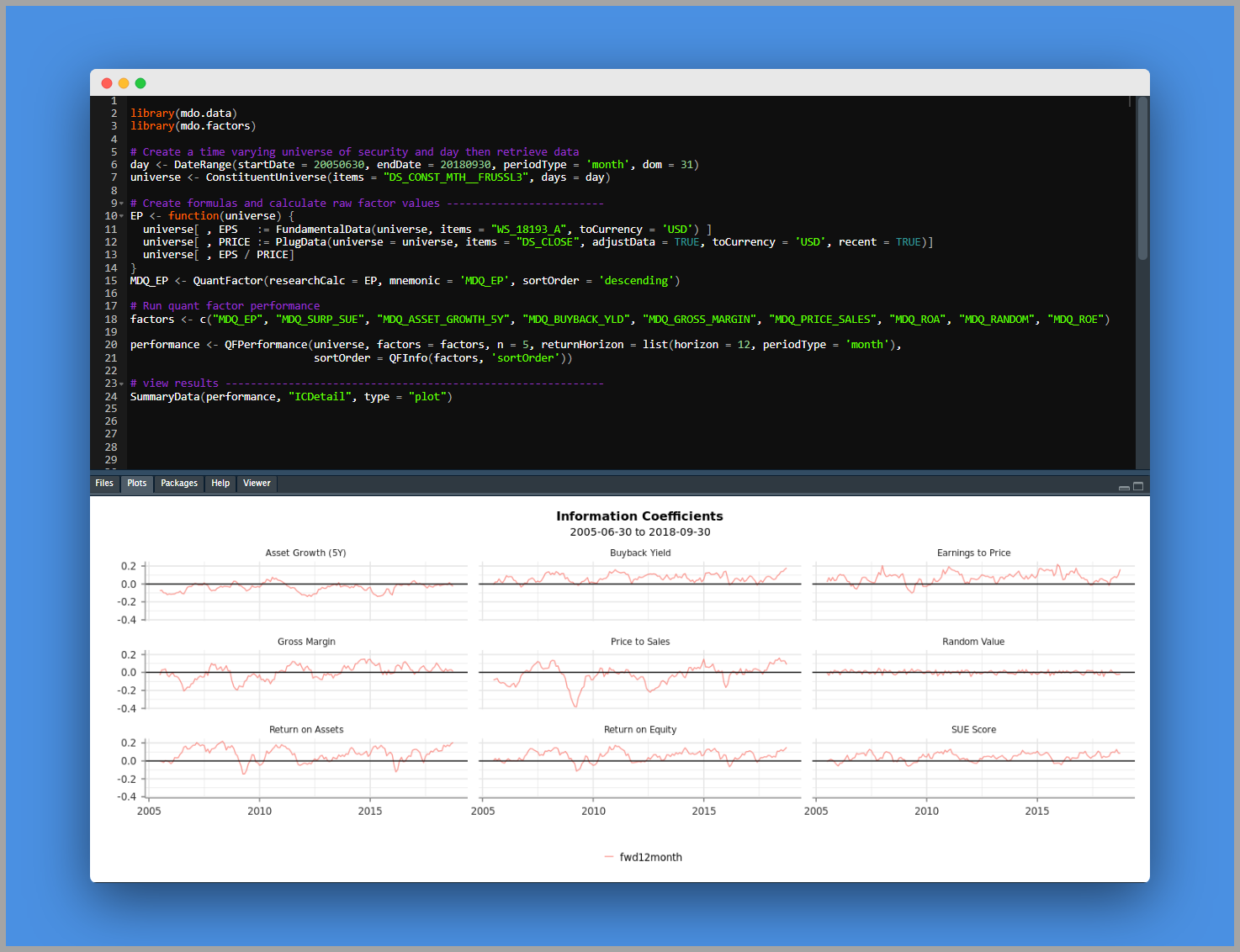 Data Sources Currently Integrated
---
Financial Data from any source can be integrated into the platform. Below are the content sets which are currently available.
| | |
| --- | --- |
| Vendor Feed Name | Description (Source) |
| IDC Pricing (North American) | Equity Pricing Data (QAD) |
| IDC Pricing (Global) | Equity Pricing Data (QAD) |
| IBES Summary (QFS) | IBES Current Consensus Data (QAD) |
| IBES Summary (QFS) – International | IBES Current Consensus Data – International (QAD) |
| IBES Summary (Monthly) | IBES Monthly Consensus Data (QAD) |
| IBES Summary (Monthly) – International | IBES Monthly Consensus Data – International (QAD) |
| IBES V2 | IBES V2 Detail & Summary (QAD) |
| IBES Global Aggregates | IBES Global Aggregates Data (QAD) |
| Worldscope | Worldscope Fundamental Data (QAD) |
| Worldscope PIT | Worldscope PIT Fundamental Data (QAD) |
| Reuters Fundamentals | Reuters Fundamentals (QAD) |
| Reuters Fundamentals PIT | Reuters Fundamentals PIT Fundamental Data (QAD) |
| Compustat Domestic | Compustat North American Fundamental Data (QAD) |
| S&P GICS | S&P GICS History (QAD) |
| TRBC | Thomson Reuters Business Classifications (QAD) |
| Russell US Index Constituents | Russell US Index Constituents (QAD) |
| S&P US Index Constituents | S&P US Index Constituents (QAD) |
| DJX US Index Constituents | DJX US Index Constituents (QAD) |
| Nasdaq US Index Constituents | Nasdaq US Index Constituents (QAD) |
| MSCI Indices | MSCI Index Constituents and Index/Security Data (QAD) |
| S&P BMI Indices | S&P BMI Index Constituents and Index/Security Data (QAD) |
| S&P Global ASX Indices | S&P Global ASX Index Constituents and Index/Security Data (QAD) |
| StarMine Data | StarMine Data (QAD) |
| DataStream Equities and Indices | DataStream Equities and Indices (QAD) |
| DataStream Index Constituents | DataStream Index Constituents (QAD) |
| DataStream Economics | DataStream Economics (QAD) |
| Ownership V2 | Ownership Data (QAD) |
| Special Dates | Special Dates (QAD) |
| Index Pricing | Index Pricing (QAD) |
| Refinitiv ESG | ESG Data (QAD) |
| Deals M&A | Deals Mergers & Acquisitions Data (QAD) |
| SMA Equity Data | Social Market Analytics Equity Data (SMA) |